Sensory & Inclusive Community Partners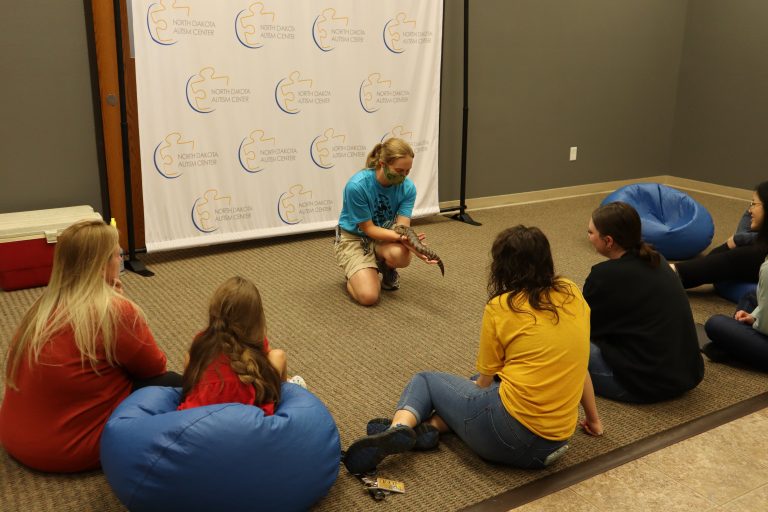 To equip businesses/organizations with basic knowledge of Autism Spectrum Disorder (ASD) and other developmental disabilities to ensure confidence and comfort in providing a quality experience for the organization, individuals in need of support, and their families.
The North Dakota Autism Center, Inc.'s (NDAC) Sensory and Inclusive Community Partnership program, is a bridge between businesses/organizations and those on the developmental disability spectrum. Ultimately, NDAC believes this program will help provide a more inclusive environment to families within the community as well as empower the business or organization to welcome individuals of all abilities.
NDAC will provide a general overview of those in need of support, as well as some tips for interacting with individuals on the spectrum within their business and community. NDAC believes with training for employees of local businesses and organizations we will help to combat the isolation and stigma experienced by those affected by developmental disabilities.
Meet our Sensory & Inclusive Community Partners!
Fargo Moorhead Community Theatre
FMCT offers sensory-friendly performances during various designated productions each season. These performances are specifically adapted for audience members with sensory needs who may find the typical theatre-going experience to be overwhelming. For information about upcoming Sensory-Friendly performances, please contact the box office at 701-235-6778.
For more information, please visit their website.
For individuals and families who prefer a quiet, less sensory-stimulating environment we offer Low-Sensory Mondays on the first Monday afternoon of every month. At each event, loud gallery sounds and bright lights are turned down and attendance is limited. Fidget bags will be available for checkout.
For more information, please visit their website.
The Red River Zoo's "Zoo Access for All" program is designed to encourage families and individuals of all backgrounds to visit our world-class organization to build lifelong and multi-generational memories. To assist guests with sensory processing needs, the Red River Zoo has made accommodations. Sensory bags containing fidget tools, noise-cancelling headphones, and other resources are available for checkout at the Zoo admission desk. The Zoo has also created a social story to help guests prepare for their visit. Click here to view the RRZ Social Story!
For more information, please visit their website.
SensoryRx is passionate about creating sensory solutions and providing every individual the opportunity to find focus through movement. Use code "NDAC10" for a 10% discount on select SensoryRx products! For more information, please visit their website.
Frequently Asked Questions
Complete the SI Community Partner process, including business walk-through, acknowledgement of recommendations, and employee training.
We ask that as a SI Community Partner you commit to having all employees not present at the in-person training complete the digital version of training, including any new employees hired during active certification.
For quality assurance, NDAC's team will conduct quarterly "Check-Ins" with your business, which might look like a phone call, email, or visit during business hours.
There are no direct charges to becoming a SI Community Partner under NDAC. The only financial commitments you make are the time costs associated with the partner process and employee training.
Each certification lasts one year, with the option for renewing your SI Community Partner certification by agreeing to complete the most recent SI Community Partner training.
Become a Sensory & Inclusive Community Partner!