Clients are eligible for third-party payment if there is an autism diagnosis. We will determine and confirm eligibility of ABA therapy benefits for all families that attend our centers. For information on deductibles, check with your insurance provider. These are our current health insurance partners:
*If you have an insurance that is not listed above, we can directly work with the provider to determine eligibility.*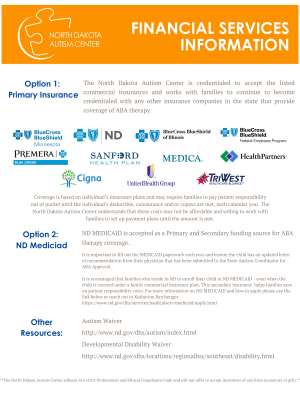 The North Dakota Autism Center provides services to individuals with any insurance covering ABA therapy, including commercial insurances and ND Medicaid. If an individual does not have an insurance covering ABA therapy there are private pay options. If private pay options are not feasible for families, the office manager will provide information on accessing ND Medicaid insurance or state waiver funding if applicable for the individual.