Autism Friendly Community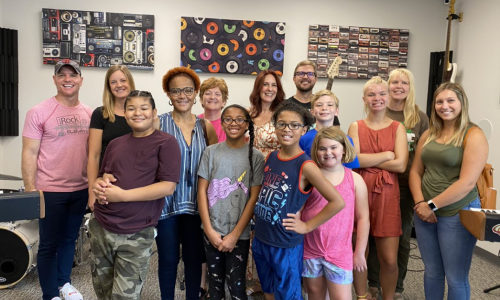 To receive the ranking of a Level 2 Autism Friendly Community Partner, in addition to the Level 1 training requirements, at least one of the following criteria must be met:
T

he business has agreed to make small modifications/adjustments to their premises to help support those with autism and their caregivers 

in order to

 provide a better and more inclusive experience.

 This may include 

environmental adjustments like lighting 

changes, 

noise

 adjustments, or a location for someone to take a break

/calm down.

 

The b

usiness 

has 

agreed 

to 

hosting a special sensory 

friendly 

day/time to participate in an activity

/event.

 

The business has agreed to providing

 visual supports around the premises, 

such as 

creating a social story for specific activities/experiences

 or adding pictures to their signage in addition to word-only signs.

 

The business has agreed to provide tools for customers to check out and use during their experience, such as 

providing sensory bags

/equipment.

 
To receive the ranking of a Level 1 Autism Friendly Community Partner, all of the following criteria must be met:
The 

bu

s

iness

/organization/group, its managers, 

employees,

 and volunteers have made a public commitment to train its staff in autism awareness.

The b

usiness 

has 

agreed to include AFC training in their orientation of new employees and set up initial training for current staff.

The b

usiness

 will agree t

hat 100% of management complete 

the training

.

The b

usiness understands that 

employees who personally deal with customers

/clients

 must

 

be

 

trained

.

The b

usiness will agree to track 

and keep date of Autism Friendly training in employee personnel file

s.
 At Code Ninjas, kids learn to code while building their own video games. They gain problem solving, critical thinking, and STEM skills in a fun, safe, and inspiring environment.
For more information, contact 701-404-7620.
As a civic resource, the West Fargo Public Library's mission is to provide equitable access to resources and opportunities so that residents can achieve their goals, explore their passions, and develop social connections. 
For more information, contact 701-515-5200.
Xperience Barbers focuses on great customer service, high quality haircuts, punctuality, and a friendly environment. 
For more information, contact 701-353-5635.
Did you visit one of our Autism Friendly Community Partners? We want your feedback!
Complete a feedback form about your experience by clicking the button below!
Interested in signing up for the Autism Friendly Community program?
Submit completed application and assessment
Questions?

Email Heidi Schultz, M.S., BCBA, LBA

: 

[email protected]

 
We hope to partner with business leaders with the goal to equip local businesses with sufficient knowledge of autism and other developmental disabilities to ensure confidence and comfort in providing a quality experience for the business, families and individuals affected by autism. 
Did you know that the word "philanthropy" means "love of humanity"? It originated in ancient Greece from the playwright, Aeschylus. Today, philanthropy means helping to develop and care for human beings. Philanthropy benefits those who receive, but also those who give. A true philanthropist works towards and cares about improving humanity. Your business has an opportunity to become a philanthropist business leader in our community by becoming an Autism Friendly Community Partner. The mission is to create an environment of awareness, acceptance and understanding of autism by providing free training, tools, and assistance to local businesses and organizations. 
Autism, or autism spectrum disorder (ASD), refers to a broad range of conditions characterized by challenges with social skills, verbal and nonverbal communication and repetitive behaviors. People with autism may also have sensory issues. These sensitivities can include light, sound, smell, touch, and other sensations. 
Even though there are many individuals diagnosed with autism (3.5 million Americans), families tend to isolate themselves from the community. This is to avoid hurtful reactions or stigma from others. This isolation can lead to many issues, including but not limited to depression. Autism not only affects individuals and families, but also impacts our community. 
With more people becoming aware, growth in the community will happen. The North Dakota Autism Center has developed a training for area businesses on becoming an Autism Friendly Community Partner. 
Join the growing movement of businesses in the West Fargo/Fargo/Moorhead area who want to set themselves apart from others by investing in caring and exceptional customer service. 
Why become Autism Friendly?
Become a philanthropist business leader and help make an inclusive community
Enhance your brand and help new customers find you
Gain knowledge and confidence to accommodate ALL customers
Attract loyal customers and provide a rich customer experience
Increase business and customer satisfaction
Create a positive effect on employees through offering exceptional customer service experiences
PROMOTE YOUR BUSINESS VIA WEBSITE, SOCIAL MEDIA, NEWSLETTERS, AND MEDIA OUTREACH TO LOCAL NEWS OUTLETS
Provide your business with an Autism Friendly window cling and sensory starter kit
NDAC Representative will maintain contact with your business to continue to provide support as needed